Tapas recipe: Galician-style octopus
(Read article summary)
"Pulpo a la Gallago," or Galician-style octopus, is a popular tapas dish served in Spain.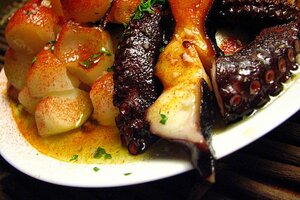 We Are Never Full
The first time I ate pulpo a la gallega was at a very disreputable-looking food stand not far from the Estadio Balaídos in Vigo, Spain, before watching a soccer match between Celta de Vigo and Racing Santander (it finished 2-2). It was served on a slightly wilted plastic plate with a toothpick that looked suspiciously blunt at one end, as if it had already been used.
The second time, things improved considerably, reclining, as we were, in some old oak chairs in a tapas bar in Madrid after a morning in El Museo del Prado. The only unpleasant feeling came from our sadness when the generous racione was finished. While pondering these feelings, Amy and I came to the conclusion that it's one of the world's greatest snack foods. Chewy, salty, sweet and filling, healthy and satisfying, pulpo a la gallega is simply chopped boiled octopus in the Galician style – dressed with sea salt, olive oil and sweet pimenton – and in Galician pulperias is commonly served on a wooden board with toothpicks. Like so many tapas, and Spanish dishes generally, it is achingly simple, and yet unbelievably good. Add anything to it and it becomes something else, take something away and it's missing a key element.
---