Ides of March: Celebrate with a (Julius) Caesar salad
(Read article summary)
Ides of March: Try a new twist on Caesar salad with lime, feta, and tortilla croutons.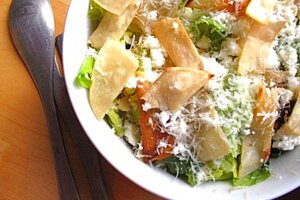 In Praise of Leftovers
Yancey and I have a joke that he barely gets a bite in his mouth before I say, "How is it?" or "It's good, isn't it?" He calls the latter a "statement question," meaning, "It's good, and you will agree with me." So I've been trying to lay off a bit, but he was praising this salad at first bite. He's a Caesar Salad Guy from way back. We started dating in high school, and he used to eat my Mom's Caesar Salad on Sunday nights – with the Murphy family in front of the fireplace, answering questions about his basketball game or begging my mom to make my curfew later.
My mom made Caesar back when it was totally novel and most home cooks wouldn't dream of making their own salad dressings. That's one thing I have never, ever seen in my mom's fridge – a bottle of purchased salad dressing. You won't find it in my fridge, either – you can't come close to the freshness and flavor of something you whisk up yourself. But the myth persists that making your own dressing is hard. Mostly, you've got to trust yourself, tasting along the way, and stick to a basic ratio of 1 part acid (vinegar, lemon juice, lime juice) to three parts oil or emulsifying agent (olive oil, vegetable oil, mayo). I always add my emulsifier last so I can keep an eye on when the dressing comes together. If I throw everything in at once, it's harder to correct the acid/fat ratio.
Because we are salad freaks, this is a something we'd eat as a main course, maybe with some bread on the side. Once you've gotten out 20 bottles to make your dressing, you might as well make the damn salad your centerpiece. And maybe your audience won't need a statement question before they praise it. (Yancey, I hope you're taking notes.)
Lime and Feta Caesar Salad with Tortilla Croutons
I've made Caesar dressing so many ways throughout the years – with raw egg or without, with anchovies or without. I still experiment all the time, but one thing that's been consistent the last couple years is using mayo. I find it gives me the creaminess I always longed for with egg but had a hard time achieving. This definitely isn't a low-fat salad, and most Caesars aren't. If you have one of those gargantuan heads of romaine, don't use all of it for this salad unless you add more of everything else.
---