Corned beef and cabbage slaw sliders: A St. Patrick's Day recipe
(Read article summary)
Corned beef and cabbage slaw sliders on St. Patrick's Day are quick enough to let you come home from work and have enough time to throw a party.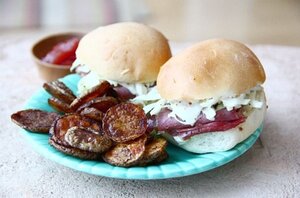 Three Many Cooks
Watch Three Many Cooks prepare their St. Patrick's Day meal on video here.
Corned beef and cabbage slaw sliders
Serves 6
1/2 cup light mayonnaise
1 tablespoon coarse-grain mustard
1/4 red onion, grated
1 tablespoon cider vinegar
Salt and ground black pepper
2 cups finely grated cabbage (about 1/4 head) finely shredded
1 package (16 count dozen small party rolls, split 1 pound thinly sliced deli corned beef
Adjust oven rack to lower-middle position and heat oven to 300 degrees F. Mix mayonnaise, mustard, and red onion in a small bowl. Add 1/4 cup of the mayonnaise mixture, along with vinegar and salt and pepper to taste, to cabbage in a medium bowl; set aside.
Spread split rolls with remaining mayonnaise mixture. Place a portion of corned beef on each roll bottom, top with slaw, and cap with roll top. Bake until just warm, 5 to 7 minutes. Serve.
Baked potato chips with paprika and garlic
Serves 4
1 pound new red potatoes, sliced thin and thoroughly patted dry
2 tablespoons olive oil 2 teaspoons paprika (smoked if you can find it)
1 teaspoon garlic powder Kosher salt
Toss potatoes with oil, paprika, and garlic powder; arrange in a single layer in an 18- by 12-inch rimmed baking pan. Set pan in cold oven on bottom oven rack and heat oven to 400 degrees F. Bake until potatoes are golden brown, 20 to 25 minutes.
---