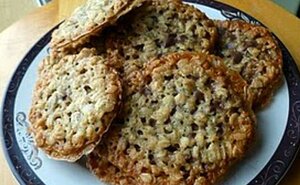 The Pastry Chef's Baking
Florentines are thin, lacy cookies, typically made with oats and/or sliced almonds and sandwiched with chocolate filling that hardens and holds the cookies together. We made them at the Culinary Institute of America (CIA) and I remember thinking they were a total pain to make because they required precise timing and handling. You need to make them as thin as you can, they have a tendency to stick so it's best to bake them on silpats or parchment paper and, if you want a professional look to them, you need to cut them out with round cookie cutters after they come out of the oven. Only your timing has to be impeccable because if you wait too long and they have time to cool enough to crisp up, they'll break when you try cutting them into cookie cutter rounds. And even if you cut them out while they're hot enough to be malleable, they can also stick to your cookie cutter at the edges and tear apart. Yup, total pain.
---
Follow Stories Like This
Get the Monitor stories you care about delivered to your inbox.