Book Review: The Sorcerer's Apprentices
(Read article summary)
Endless hours mastering mundane tasks, dozens of chefs in a small space following strict protocol and a military-like hierarchy – these are the secrets of success behind the curtain at elBulli – the most creative, innovative kitchen in the world.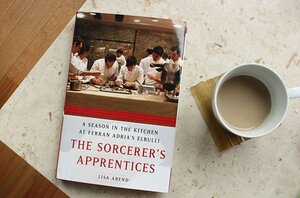 Whipped, The Blog
Since I first read about Ferran Adria and his culinary magic, I have dreamt of experiencing a meal at elBulli in Spain. They say it is the Mecca for ultimate foodies and I admit that I would have sacrificed a lot to make my pilgrimage to the famed establishment should I had ever obtained a reservation. I have read that more 2 million reservations were requested each season for 8,000 meals served. And now, the word on the street is that Adria will be closing elBulli forever after this summer. (If you don't know about elBulli, read this account of a lucky blogger, The Amateur Gourmet, who scored a reservation.)
When I was offered a chance to review The Sorcerer's Apprentices: A Season in the Kitchen at Ferran Adria's elBulli by Lisa Abend. I jumped at the chance. Knowing I will never experience the magic in flesh and blood, I was eager to soak up whatever I could about my coveted experience. The author follows a group of stagiares through a season behind the scenes at elBulli. The stagieres, or apprentices, obtain a once in a lifetime opportunity, to work alongside the most famous chef of our time. Adria is as much of an inventor as he is a chef. He is a modern day Da Vinci who uses plates as his canvas and food as his paints.
The initial chapters of the book were the most engaging for me as Abend brings us behind the scenes with the group of new recruits. Late at night, as I flipped the pages, I felt my own physical anxiety as I entered into the intense world of the elBulli kitchen. Though I know restaurant kitchens are often organized places, the level of militaristic control was surprising. The juxtaposition of such order with the mind blowing creativity of the culinary output appeals to my own right/left brain balance.
---