Double chocolate cookies with sea salt
(Read article summary)
Just a few coarse crystals of sea salt catapult the intense rich flavor of these dark chocolate cookies into a new realm.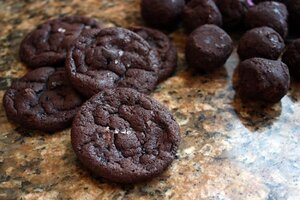 Whipped, The Blog
When my pal Kathy came over to meet Baby Whipped, she brought an enormous offering of food. Being the baking goddess behind the blog Stresscake, it is no surprise that her bag of goodies was one creative surprise after another. She brought two potpies along with two, small ramekin sized pot pies for Mini Whipped. Also tucked in her bag of tricks was a ziplock full of chicken steam buns for the freezer, which have proved to be perfect snacks and quick lunches. And finally, the sign that shows me that she is truly my kind of gal… a bag of frozen cookie dough – dark brown, nearly black little spheres of double chocolate cookie dough, just waiting to be whisked into my toaster oven in those moments of need.
(Confession time: I just stopped writing this post to go to my freezer and eat a ball of cookie dough… I have a problem.)
I have never tasted anything that Kathy had her hands on that was short of delicious. I am trying to stop begging/harassing her into opening her own bakery. I suppose that just because I want her to have a bakery doesn't mean she should be waking up at wee hours to work the ovens and spread her taste treats far and wide. I mean, MAYBE she shouldn't change her entire life so I can have her sweets at my beckon call whenever I need them. For now, I'll just try to be happy that her double chocolate cookies are an arm's reach away in my freezer drawer.
Kathy instructed me to sprinkle sea salt atop each little beauty before baking. I have determined that it is indeed these few crystals of salt that take these cookies from delicious to fabulously perfect. There is something about salt against chocolate that amplifies the flavor of the chocolate to an ultra addicting level. These cookies are rich so I suggest you make them bite-sized. They are an amazing compliment to a strong cup of coffee and provide just the satisfaction your sweet tooth needs after a meal.
---