Fabada Asturiana: A bean and sausage stew that may have altered history's course
(Read article summary)
Could a national dish have fueled the victory against the Moors in northern Spain?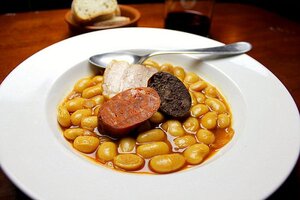 We Are Never Full
Almost seven years ago I journeyed in Spain from Santillana del Mar to Santa Maria de Lebaña by way of San Vicente de la Barquera. So many saints, so much devotion, that it was little surprise to learn that beyond the monastery of Santo Toribio de Liébana and the Picos de Europe mountain range lies the hallowed ground of Covadonga. It was here that the Christians held off the Moors to establish a foothold in the northern territories.
It was at the battle of Covadonga in 718 that Christian Spain under Pelayo, King of Asturias, began the reclamation of Iberia from the Muslim Moors. Nestled deep within the Asturian mountains, Covadonga is as important to the Spanish national myth as Hastings is to the British or Lexington to Americans. However, history defies such over-simplification – the linear narrative of one thing followed by another – and it is too easy to say that simply because certain events turned out the way they did there were no other possibilities. Indeed, a sentence stating that the defeat of a Moorish army by a Spanish king at Covadonga began the reconquest of Spain – which culminated in Ferdinand and Isabella vanquishing Boabdil, Emir of Granada, in 1492 – encompasses more than 700 years and glosses over seven whole centuries of war, shifting borders, switching alliances, inter-marriage, suffering, and grief.
---