Homemade dumplings
(Read article summary)
Use wonton wrappers to wrap the filling and you'll have hot dumplings on the table in 30 minutes.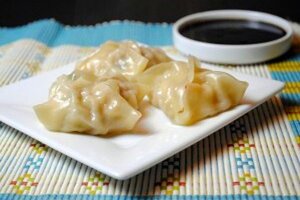 Three Many Cooks
To see other recipes by Three Many Cooks, click here.
Because Mom had a flexible schedule, she would always be around when we got home from school to take us apple picking or out for ice cream. We would hang with her in the kitchen while she made dinner and we'd all go shopping on weekends. Dad, on the other hand, had to work a more traditional schedule. So, in order to catch up with his daughters, he began a ritual of taking us out one-on-one for some food and face time. One weekend, it would be Maggy's turn, the next I'd get my chance.
These days Dad likes to take his daughters out to the diner for breakfast, but the tradition really began at a little hole-in-the-wall Chinese restaurant called Hong Kong Sunny. I'll never forget drinking black tea with loads of sugar, dipping those crispy fried strips (of something?) into duck sauce, and talking to my dad about school, boys, book reports, and what exactly Maggy had done recently to make me mad. I always ordered the same thing: egg roll, small wonton soup, and chicken lo mein. And the people there knew my dad by name.
Dad has always seemed to have a special place in his heart – or stomach – for Chinese food. Nothing particularly authentic, pretty much anything wrapped in a wonton and dipped in soy sauce will do. He's been instrumental in making the rest of us love it, too. Dad will often sneak off to Trader Joe's and fill his basket with those frozen dumplings, potsickers, and shumai and slink back into the house with his treasure. And on nights when no one feels like cooking (like … last Christmas Day, actually), Dad will whip out his frozen Asian goodies and serve up a kind of David Anderson "dim sum." We love it … if somewhat guiltily.
As I've moved away from packaged food and take out, I've struggled to get my dumpling fix. I've toyed with the idea of making them, but I always just assumed they'd be difficult and time-consuming. Well, I am happy to tell you that I was wrong.
---