April Fools recipe: Mock apple pie
(Read article summary)
April Fool your friends and family with an 'apple' pie made with Ritz crackers.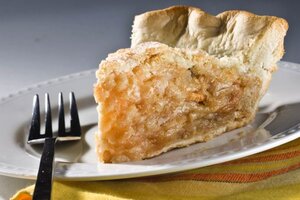 Bill Hogan/Newscom
Michael Pollan, the foodie journalist and author of "In Defense of Food," coined a new anthem for locavores with his pithy phrase "Eat food. Not too much. Mostly plants."
Michael, forgive my foolish ways. I could not resist the temptation to make this recipe that includes no plant fiber and try it out on unsuspecting friends.
Mock Apple Pie first appeared in 1934 on the cracker's package. It's hard to imagine why anyone would want to substitute crisp apples for buttery crackers. Were they a stand-in for hard-to-come by apples during the Great Depression? Some references suggest that Mock Apple Pie was invented by pioneers on the move who didn't have space or access to fresh apples out on the trail.
This brings to mind a scene from "The Long Winter" by Laura Ingalls Wilder where Ma presents the family with a pie when an early frost forces a harvest before all the produce is ripe. "Apples!" Pa exclaims after he digs in. "Caroline, where did you get apples!" There were no apples in that apple pie, either. Ma had used green pumpkins. Fooled ya!
---