Bake sale for Japan: Nutella crunch brownies
(Read article summary)
Rich, chocolate brownies have an added crunch with a Nutella and crispy rice topping.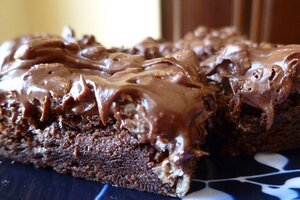 The Pastry Chef's Baking
Thanks to my friend Hildy, I have an opportunity to contribute baked goods to a bake sale on Sunday where the proceeds will go to Save the Children for Japan relief efforts.
When I think "bake sale," the first things that come to mind are brownies and cookies. They can be individually packaged and are a small commitment for an impulse purchase so they should sell easily. And if they're chocolate, so much the better. I know cupcakes are popular items but I'm leery as the quality can be inconsistent, the frosting needs to hold up under the sun for potentially a few hours and they go stale or dry out faster than brownies. I can make brownies today and freeze them until the weekend then they'll be just as fresh on bake sale day. So brownies it is.

I used the brownie recipe from Bruce's Bakery Cookbook to make the brownie base but I decided to do something similar for the topping that I did with the Chocolate Peanut Butter Crunch brownies only this time, I went with Nutella as the flavor of choice. And Rice Krispies. I don't know why but I've become enamored of using crisped rice in a chocolate topping. Just something about the crunch of the crispy rice cereal providing a nice contrast to the smooth creaminess of the chocolate. I have some ideas brimming for a blondie with a dulce de leche/rice krispie topping but I'm getting ahead of myself.

The directions aren't very clear in that they call for the butter to be softened then added to the melted chocolate so I wasn't sure if the butter was supposed to eventually end up in a melted state or not. I saved myself a step and just melted both together as it would be hard to add even softened butter to melted chocolate and expect to stir it smooth without any non-melted butter lumps. Risky to assume the heat from the chocolate can melt all that butter. Otherwise, the brownie was very straightforward to mix together. It was actually a slightly thinner layer than I normally like my brownies to be but since I was adding the nutella crunch topping, it was the perfect thickness to serve as the base for the topping. If you do make it as a stand alone brownie without the topping and prefer thicker brownies, bake in a smaller pan like a 10"x10" or 9"x9" and adjust the baking time accordingly.

Overall, these turned out to be pretty yum. The brownie base was dark chocolatey-fudgy and the chocolate topping with the Nutella didn't really "set" when I tried the taste test so it was more like a creamy thick chocolate frosting with rice krispies in the topping. I didn't chop up any candy for the brownie like I did for the Peanut Butter Crunch brownies because I couldn't think of any hazelnut candy to complement the Nutella and you know I wasn't going to add hazelnuts to the brownie. Consequently, the Nutella flavor is pretty subtle and almost lost in the chocolate. But it's all good. Now I just have to remember these are for donating to a good cause and not eat anymore. Really.
---