Cookbook review: 'Grilled Cheese, Please!'
(Read article summary)
A grilled cheese blogger gives a new grilled cheese cookbook a thumbs up. April is grilled cheese month.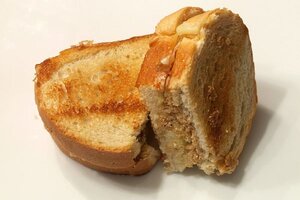 Grilled Shane
When The Christian Science Monitor volunteered to send me a copy of Laura Werlin's new grilled cheese cookbook, "Grilled Cheese, Please!" in turn for a review, I asked where do I sign. Seemed like a no brainer to me.
The last time I wrote a book review was probably sometime in grade school for some book I probably never even read. I know I still owe one to my Sunday School teacher. (I'll get on that right after I finish this review.) And now, here I am writing a cookbook review, a grilled cheese cookbook review for that matter. I would definitely say this is an improvement and that I am moving up in the world. I wonder what fun will happen next.
Prior to knowing I was going to write this review, I was planning on cooking a sandwich from Werlin's first grilled cheese cookbook, "Great Grilled Cheese." I briefly thumbed through, trying to find that perfect recipe. I stumbled on a cucumber sandwich that looked promising, but honestly, none of the recipes really excited me (as they did when I originally purchased the book). Sure, I have to discount some because of the whole meat+milk/Kosher thing, but although the vegetarian ones looked interesting, I couldn't find the one. That all changed once I received "Grilled Cheese, Please!"
The minute the book arrived, I thumbed through as quickly as possible, trying to take everything in. The introduction is a great initiation for all grilled cheese novices and a great refresher for the grilled cheese aficionados. Werlin is a grilled cheese expert, so make sure to heed all of her advice regarding grating the cheese, buttering the bread (not the pan) and covering the sandwich while cooking. It is valuable information regardless of your cooking expertise.
---