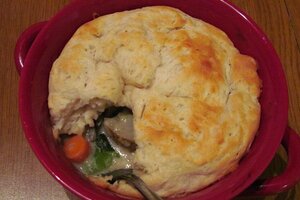 Nora Dunne
Spaniards enfold meat, cheese, and vegetables into pastry dough and call the result an empanada. In Greece, cooks stuff spinach and feta, ground beef, or lamb between flakey layers of phyllo crust. In Australia, palm-sized meat pies are a take-out staple, a cultural comfort food.
Here in the United States, we bake pot pies. Fannie Farmer served her bacon, beef, potato, and carrot pies with thick slices of tomato and Bermuda onions on the side. Julia Child and Jacques Pépin agreed on a recipe also with carrot, plus celery, leeks, peas, and leftover roast chicken. Paula Deen's has a quart of heavy cream and a pinch of nutmeg.
I always assumed homemade pot pies elaborate and time consuming, like twice-baked potatoes, or tiramisu. I was wrong. Despite the multitude of ingredients and requisite crust, the most exhaustive part of my vegetarian version of the dish is chopping those vegetables.
---