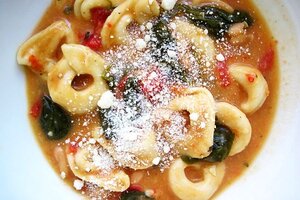 nestMeg
It's that time of year. Of life, actually. A point where I must begin to make decisions to secure gainful employment, financial security, and a place to live that isn't with, or funded by, my parents. So far it's been rather anticlimactic. Moments of Zen-like calm precede 90-minute job-seeking marathons, followed by thoughts like, "Maybe I should just hang out in Europe for a bit." And then, again, calm – most prevalent and seemingly illogical considering the state of "this economy." (Cue dark organ music.)
I often feel like the New York Times article "What Is It About 20-Somethings?" personified, the question mark perpetually superimposed over everything I see and touch, like those index cards my high school Spanish teacher stuck on every object in her room, identifying their Spanish names. "La television" and "el escritorio." Except there's no clear answer this time. I get to fill in the blank.
Impressively and patiently, my parents take it all in stride. Some days, I inundate my dad's e-mail in box with new plans of jobs and internships, of English-teaching opportunities, of I-want-to-be-Samantha-Brown aspirations. "What do you want to do [with your life] today?" is one of his common greetings.
What I want is an opportunity that will foster, rather than contain, my enthusiasm, cause a snowball effect where I stumble over my words and letters and phrases with the wanting, the craving to get them out fast enough so I can hurry up and do more and see more and say more and have my life be an endless run-on sentence instead of a question mark or, even worse, a period.
Yes, that's what I want. Lots and lots of doing with only the most promising of punctuation.
So you can see what we're dealing with here. My mind fluctuates more than spring weather in North Carolina. Speaking of which….
I made this soup when the weather was cold. (By my definition, we're talking 50 degrees F. or so.) Now, the weather is warm. Miraculously, this soup is well-suited for both occasions, hearty with its bean backbone and springy with its fresh basil freckles.
---