Civil War recipes: Hardtack crackers and Confederate Johnny cake
(Read article summary)
Civil War bayonets were used more for cooking than impaling the enemy.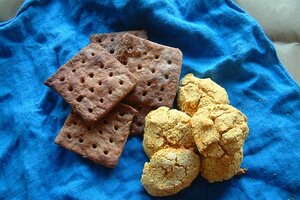 Kitchen Report
Today marks the 150th anniversary of the start of the American Civil War – a wrenching, bloody, costly conflict that took almost as many American lives as the total of all other US wars combined. The effects of this war still lurk in America's psyche and social fabric.
But whether one wore a Blue or Gray uniform in the 1860s, there was a commonality that emphasized the humanity on either side of the line: Soldiers had to eat. I know this because I once lived through a battle. I still remember the chicken stew I ate that day in 1977 from a wooden salad bowl, with a wooden spoon, wearing a calico dress.
Let me explain. My Uncle Dave is a Civil War reenactor and when my brother and I were small we sometimes accompanied him to the battlefield. I remember the roar of the cannons that thumped in my chest and the bluish gunpowder smoke that swirled over the grassy hillside as men fell to the earth. Later, they all got up and joined us for a meal around the campfire.
So I checked in with Uncle Dave, just to make sure the hardtack cracker and Johnny cake recipes I found to commemorate the anniversary were "authentic." His reply was so informative and entertaining, I asked if I could share it here with you.
Dear Kendra,
There can be no better recipe for the Civil War anniversary than one for hardtack crackers. If you put a sheet into the oven at 4:20 a.m. on April 12 – the time the first shot was fired – it should be ready to land as a hot shot into your belly by dawn at 5:20 a.m.
---