Nettles for supper? Try them as pesto.
(Read article summary)
Nettle pesto has a surprisingly savory flavor. Cooking removes their sting.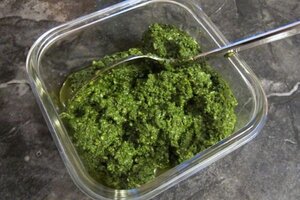 The Rowdy Chowgirl
A few weeks ago, the fiddleheads appeared at the farmer's market. That, I believe, was the signal, even though the weather is still mostly gloomy and chilly, that it is indeed spring in Seattle. Then came the baby greens. Delicate arugula and spinach, light and translucent as fairy wings.
This week, it was stinging nettles. Nettles are one of those superfoods I am always hearing about. They can be used in recipes like spinach, steeped for tea, and are chock full of vitamins, iron, and protein.
I had a fruitful conversation with the vendor, who told me that nettles grow wild all over the US. He confirmed that nettles can be steamed and eaten much like any other greens. It occurred to me that handling the raw stinging nettles could be problematic. They do have the word stinging right in their name after all, and I have a vivid memory of brushing my exposed ankle, ever so lightly, against a weed while I was on a walking trip in England last year, and the sudden, acute burning sensation produced.
"Don't touch them to sensitive parts of your body like your inner arms and you'll be just fine. And they don't sting at all after they are cooked," he explained. "But yeah, while you are washing the raw nettles, you might want to use tongs to handle them."
---