Fried matzoh with horseradish mayo grilled cheese
(Read article summary)
There is no reason observant Jews can't enjoy a good grilled cheese during Passover.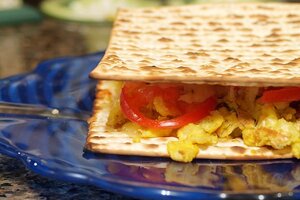 Grilled Shane
When I originally started this grilled cheese project, I never imagined that I would be doing it for 3 years plus, nor did I think that I would create special sandwiches for Passover. However, that is exactly what has happened. Originally, I created a Matzoh & Charoset Grilled Cheese and then last year a PassEaster Grilled Cheese, one that highlighted both Passover and Easter. This year, I was unsure of what direction to go in. Passover doesn't really allow for many choices when it comes to a grilled cheese sandwich. However, I think this year was my best Passover Grilled Cheese Yet.
Ingredients for fried matzoh with horseradish mayo grilled cheese
Cantalet
Fried Matzoh
Fresh Tomatoes
Fresh Horseradish Mayo
Matzoh
The cheese: cantalet
I searched Whole Foods for a special cheese, focusing on cheeses that were on sale. Cantalet was the one I stumbled on.
---