Caramelized shrimp and pork belly
(Read article summary)
This traditional dish can be found in any region throughout Vietnam.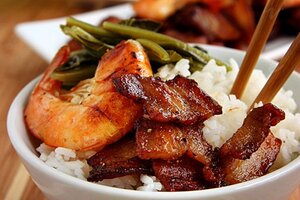 The Ravenous Couple
Tom rang thit ba chi (caramelized shrimp and pork belly) served with bowl of hot jasmine rice, pickled mustard greens, and soup of the day would be like our family's pizza night if we actually ever had one, a once week or two fall back when mom didn't feel like making anything special in the kitchen. But of course, she knew we all loved this dish and I'm certain had no guilt about her lack of menu diversification or the fact we might have had this dish one, two, or even three weeks in a row.
We love it not only because it contains two ingredients we love: pork belly and shrimp, but it also combines a technique we love, and that's caramelization. Who wouldn't love pork belly that's rendered and caramelized to a crisp like bacon, along with sweet, succulent shrimp?
We've talked about caramelization before with ga kho, ca kho to, and thit kho and all of these dishes highlight the fact that caramelization can be done in a variety of ways from making a caramel sauce by browning sugar to using the natural sugars of coconut juice in a long braise. In tom rang thit ba chi (or ba roi, as southerners would say), the simple combination of sugar and fish sauce and pork fat renders magic. We often highlight regional dishes from the northern, central, and southern regions of Vietnam to point out the diversity of Vietnamese cuisine. But tom rang thit ba chi however is one dish that you can find in any household, in any village, and in any part of the country.
---