Chard and onion panade
(Read article summary)
This panade could easily stand alone as a main course, needing nothing but a crunchy salad to complete the meal.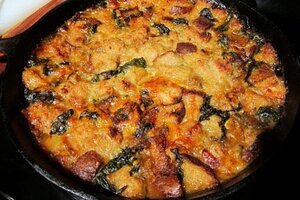 The Rowdy Chowgirl
Our Easter celebration was a little different than usual. This year we were on a hiatus from our traditional Easter extravaganza with a group of old friends. I am the sort of person who enjoys tradition, repetition, routine, predictability. I like knowing that from year to year, I can count on certain things to remain the same. But life is about change, and sometimes things do get shaken up a bit. That's just how it goes and I learn, little by little, to embrace that.
So this year, we were writing our own script. It was a family Easter this year. And I thought that since we usually have a vegetarian Easter, why not make this one a little meatier?
So we went casual. An extensive tray of charcuterie, a duck and cognac pate, an array of cheeses, olives, cornichons, slices of baguette, mustard, and quince paste for the first course.
For the next course, a simple roasted chicken and a chard and onion panade. My nephew loves chard, so this panade was for him.
And Sissy made devil's food cupcakes with ganache frosting for dessert.
In this meaty feast, this pivot from our usual delightful vegetarian Easter fare, who would have guessed that the vegetables would steal the show? The chard and onion panade was hot, fragrant, and hearty. The combination of deeply caramelized onions, broth, bread, and cheese was reminiscent of French onion soup, but much more substantial. The ribbons of chard were tender, but chewy, adding a bit of texture to the soft tangle of golden onions and pillowy, brothy bread cubes. The panade could easily stand alone as a main course, needing nothing but a crunchy salad to complete the meal.
This dish did require about an hour of active cooking before slipping it into the oven to bake peacefully beside the chicken. For a holiday meal, that's a pretty good time investment. It's not too bad for any lazy Sunday afternoon either, when you can enjoy the cooking process, then go curl up on the couch with a book and wait for the rich smell wafting from the kitchen to envelop you like a comfortable afghan.
(See next page for Chard and Onion Panade recipe)
---
Follow Stories Like This
Get the Monitor stories you care about delivered to your inbox.