Dulce de leche ice cream
(Read article summary)
Smooth and rich, the sophisticated sweetness of dulce de leche ice cream is a delicious treat.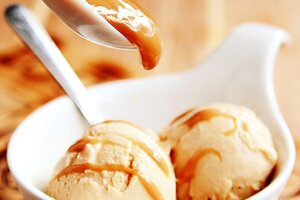 The Ravenous Couple
Being the cafe sua da lovers that we are, cans of condensed milk are never hard to find in our pantry. In fact, we fill a squirt bottle with condensed milk for quick and easy access each morning to sweeten our Vietnamese iced coffees. But little did we know that by simply boiling an unopened can results in a golden caramelized dulce de leche, a sauce that's infinitely versatile for all types of desserts. Dulce de leche, literally "candy made of milk," is thought to originate in Latin America and has made it's way into mainstream American products such as Häagen-Dazs ice cream, Starbucks coffees, and even Girl Scout cookies!
Boiling the unopened cans for about 2-3 hrs evaporates the water content and caramelizes the sugars. The key is to keep it submerged at all times so we made sure to use are large stock pot with plenty of water. Alternatively you can also use a pressure cooker to cut the time down to 30-45 minutes.
Although time intensive, it couldn't have been any easier! The result is a shiny, smooth, and addicting confection. We've never had the opportunity to try, but dulce de leche from Latin America, particularly La Salamandre brand is supposed to be the best, but it's also quite expensive. If you're not up for boiling cans, Nestle and Eagle brands also makes affordable versions of this treat.
So how did we use our boiled can of dulce de leche? We wanted to maximize our efforts and make the most decadent dessert we could think of: dulce de leche ice cream topped with dulce de leche syrup.
---