Tropical chicken salad
(Read article summary)
Kiwi, mango, and pineapple add a delicious sweet flavor to familiar chicken salad.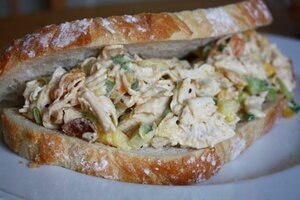 The Gourmand Mom
Thankfully, the temperatures have finally started to rise around here, allowing us some much-awaited walks and outdoor playtime. After living in two urban areas, where most of our needs could be met within a few minutes walk, I can't even begin to express the value I place on our proximity to a well-stocked, walking-distance grocery store in our current suburban neighborhood. Had I never become accustomed to walkable grocery access, it might not matter so much. But to me, our ability to walk to our grocery store is worth more than any other feature of our home.
Once walk-friendly weather arrives, daily trips to the grocery store become part of our routine. I plan our meals in the morning. Then, the kids and I walk down to the store to gather the ingredients. It's practically like living in Provence, making daily trips to the outdoor market for freshly picked produce, meats, and fine cheese! Well…maybe not quite like Provence, but we'll take what we can get!
So, on a recent bright, sunny, morning, the boys and I set out for our grocery walk. My 4-year -old had suggested chicken salad for dinner. The addition of tropical fruit flavors was my contribution to the dish. The sweet fruits add a delicious accent to our salad.
I hadn't initially planned for this meal to become a family cooking activity. The boys were happily playing in the living room when I began cooking. But, as soon as my little men caught the sight and smell of the fruits, they were at my side like glue, begging bits of mango and pineapple. Moments later, they were asking to help with "the steps." So, after a quick trip to the sink to wash their hands, my little chefs joined me in the kitchen.
This recipe is ideal for young chefs of any age. Older chefs can prepare the entire dish independently, from start to finish, especially if you start with precooked chicken. Younger chefs will need more support, but with child-safe cutting tools, there are plenty of ways for them to get involved. Chopping fruits, measuring ingredients, and mixing are ideal activities for little chefs. It's also a great opportunity to taste new fruit flavors, which may be less familiar than the more common apples, bananas, and berries many kids are accustomed to.
(See next page for Tropical Chicken Salad recipe)
---