Meatless Monday: Tomato savory muffins
(Read article summary)
Peppery mustard greens bring a savory kick to muffins.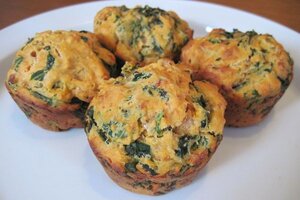 Nora Dunne
I recently learned a valuable cooking lesson: Taste your ingredients before using them in your dinner.
I had bought a large bushel of mustard greens, to be tossed in my favorite black-eyed peas salad. I'd made the salad, greens included, many times in the past with great success. So I didn't bother to sample it before sitting down to eat.
It just took a bite to realize that this particular batch of mustard greens did not belong in a raw salad. Usually I like their peppery, sharp flavor, but these were bitter beyond even my palate. A Google search reveals that plants grow increasingly bitter as they mature, so maybe these were pulled from the ground too late.
Not one to waste a big bunch of fresh leaves I decided to get creative. I've been toying with savory muffins – my favorite up until now a sun-dried tomato and cheddar blend – and thought perhaps the bitter vegetable could be salvaged this way.
Sticking with my theme – resourcefulness – I added half a cup of leftover tomato sauce to the batter's wet base. With rosemary, garlic powder, and onions, the tangy tomato sauce cut the bitter flavor of the mustard greens down significantly. Precooking those greens in olive oil also helps mute them. The onions, however, can go in the batter raw, as baking softens them enough.
The muffins came out a rich orange flavor, and smelled remarkably like pizza, courtesy of the tomato sauce and herb. Though the greens ruined a salad, they reinforced not one, but two lessons. Number two: When an ingredient doesn't work in one form, try it in another!
---