Goat cheese tarts with leeks and apricot preserves
(Read article summary)
With a savory/sweet flavor hard to resist, frozen puff pastry makes these tarts easy to prepare.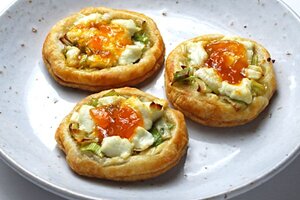 Blue Kitchen
The intersection of sweet and savory is a sweet spot for me. I love how the flavors complement each other. And the geek in me loves how they cause different sets of taste buds to fire off at the same time, leaving it to your brain to sort out the sensations colliding in your mouth.
I also love easy, which is among the reasons I tend to shy away from baking. But recently, I saw a recipe for individual tarts using frozen puff pastry. (Yes, I've seen – or more likely, tuned out – tons of recipes involving puff pastry in the past, as I'm sure we all have.) For some reason, though, one particular recipe caught my eye recently, and I thought, "I've got to remember this. I've got to bookmark this." Of course, I did neither.
What I did do was start thinking about doing some kind of tart, preferably sweet and savory, made with puff pastry. It quickly evolved in my head to the one you see here, with goat cheese, leeks and apricot jam. Goat cheese is wonderfully mild, as are leeks. Together, they provide a savoriness that also has a certain lightness to it. I see these tarts as a light first course or, made smaller, as light appetizers. Something more earthy, like sautéed mushrooms, would overpower the delicate airiness of the puff pastry and clash with any attempts to add sweetness.
For that sweetness, apricot preserves were a given. At any time, there are numerous jams and preserves in our fridge. While we enjoy them all (including various impulse purchases made at farmers markets or while traveling), the one we most often grab for toast, PBJ sandwiches and even salad dressings is the apricot. It's got everything going for it – the beautiful golden color, the promise of summer afternoons and just a slight puckery tartness that balances the sweetness.
Goat Cheese Tarts with Leeks and Apricot Preserves
Makes about 10 3-inch tarts
2 cups sliced leeks, white and light green parts only
1 tablespoon unsalted butter
canola oil
1/2 teaspoon dried tarragon (or 1 teaspoon chopped fresh tarragon)
1 sheet frozen puff pastry, thawed (but keep it cold—see Kitchen Notes)
1 egg, beaten with 1 tablespoon of water for egg wash
8 ounces goat cheese, chilled
1/4 cup apricot preserves (or more)
flour for dusting working surface
---
Follow Stories Like This
Get the Monitor stories you care about delivered to your inbox.