The 2011 Saveur Best Food Blog Awards
(Read article summary)
What makes a top-notch food blog? Check out Saveur's top picks for 2011.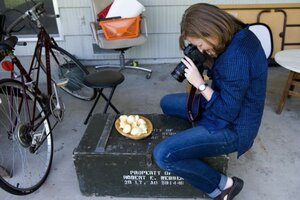 ZUMA Press/Newscom
Sauveur magazine, a culinary and culinary-travel magazine, announced its second-annual food blog award winners earlier this month after receiving 40,000 entries from devoted food blog readers touting their favorite online sites and recipes. Listed below are some of the winners. To see Saveur's full list, including finalists, go to Saveur.com
BEST ORIGINAL BAKING AND DESSERTS RECIPE
Cafe Fernando: Brownies with Hazelnut Butter and Chocolate Lace
About Cafe Fernando: "Hello! My name is Cenk (Jenk). I am a food blogger, novice photographer, seasoned home baker and a shameless chocoholic from İstanbul, Turkey. In 2006, I started this blog to share my kitchen adventures with friends and it got bigger than I've ever imagined. I made some wonderful friends along the way and look forward to many more."
BEST BAKING AND DESSERTS BLOG
Joy the Baker
About Joy the Baker: "I'm Joy. I'm a baker. Had you guessed as much? I'm currently hurtling towards my thirties, trying to show the world, and my kitchen, what's what. I'm a self taught/ family taught/ taste buds taught baker. I grew up in the kitchen in between my father, who makes a mean Sweet Potato Pie, and my mother, who makes a really weird purple hot dog casserole… don't ask. Between my kitchen loving parents, the clinking cake pans, and the flying flour, it became clear that baking is in my blood."
---