Memorial Day grilling: pork tenderloin
(Read article summary)
Memorial Day is a day for parades, picnics, and firing up the grill.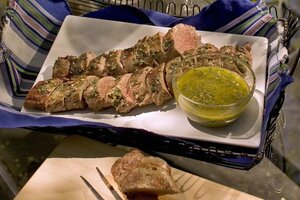 BOB FILA/KRT/Newscom
A typical Memorial Day in our northeastern Connecticut town brings old and new residents together, for the East Woodstock Jamboree. Classic cars pass through the streets, carrying the likes of the local World War II veterans. And don't forget the bicycle parade for the children in the area. Leading the parade is the East Woodstock Cornet Band, founded in 1893 and a staple for most events in the area – they are a big hit at the Woodstock Fair on Labor Day Weekend.
This is the normal morning routine on Memorial Day in my hometown. In the afternoon, we grill up a feast.
Grilling in my family is pretty basic – hotdogs, hamburgers, and occasionally some grilled veggies. The grilled meal is considered the easy answer on a hot day in order to escape a too-hot kitchen. But outside of adding a few spices to our hamburgers actually preparing a meal for the grill is a relatively new concept.
Southern food maven Paula Deen has passed on her love of cooking to her sons, Jamie and Bobby. They have released a new cookbook this spring to help hapless cooks navigate the backyard grill for outdoor parties, picnics, and tailgates. To Jamie and Bobby everything tastes better outdoors and their casual language and humor in "The Deen Bros. Get Fired Up" will encourage even the most basic of cooks to try adding new flavors and seasonings to "hunks of meat" (their words). But this doesn't mean the recipes don't require some focus – preparation is the main ingredient in "The Deen Bros. Get Fired Up." You can check out their website and recipes here.
---