Pork and chipotle sliders
(Read article summary)
Pork sliders are quick to make and can be served as an appetizer or in pairs to make up a meal.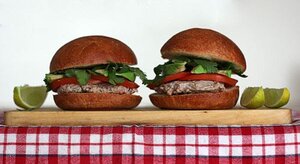 Feasting On Art
Jon Feinstein's 2008 series titled Fast Food features an assortment of sandwiches and sides purchased from chain restaurants. Stripping each foodstuff from a contextualizing background, the food floats against a stark black void – each detail meticulously recorded via the flatbed scanner. For Feinstein, the use of the scanner in place of a camera is twofold; it allows him to render the image in a "rigid, specific and typological manner" and it mirrors the "removal of the hand in food preparation."[1]
Represented sans the gloss of the company branding, the food is presented un-apologetically to the viewer, pressed against an invisible boundary. Each image is paired with a number followed by "grams" to highlight the amount of fat in each meal, as demonstrated in the photograph 16 grams, conceded by the artist to be a Burger King cheeseburger. According to Feinstein, "These photographs investigate the love/hate relationship that many Americans have with fast food, and like many other aspects of popular culture, its ability to be simultaneously seductive and repulsive."[2]
---
Follow Stories Like This
Get the Monitor stories you care about delivered to your inbox.