Instead of a traditional wedding cake, a tier of cupcakes
(Read article summary)
Baking 200 cupcakes for her friends' wedding ended up being a real labor of love.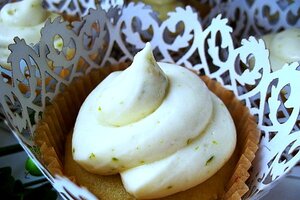 nestMeg
Baking cupcakes for a wedding is surprisingly time- and energy-consuming and, in the end, leaves one with a strong aversion to consuming cupcakes. So strong, in fact, that when I attended another wedding the following night (two weddings in one weekend, which meant two evenings of doggedly dodging the bridal bouquet), I couldn't fathom taking more than one bite of the luscious-looking red velvet cake. After baking 200+ cupcakes on Monday and frosting them Friday morning, my pores practically oozed butter.
But I would bake wedding cupcakes again, despite the overexposure to butter. What better way to show your engaged friends you care than to mass-produce baked delights for their friends and family? I baked love into every bite. For Dan and Casey, I made mint chocolate cupcakes, vanilla & chocolate cupcakes with Nutella filling, and key lime cupcakes. As a key lime pie purist, I was initially skeptical about the latter. If I'm going to eat something with "key lime" in the title, I want that food to result in a graham cracker crust and cream cheese filling. Still, key lime pie is Dan's favorite dessert, and I was not about to volunteer to make 75 key lime tarts in addition to 100 chocolate cupcakes. Everyone has a limit to his or her baking masochism, so key lime cupcakes it was.
Lesson learned. Key lime is acceptable in other forms on occasion. I got this key lime cupcake recipe from Bon Appetit and eliminated the green food dye since it was a little too St. Patrick's Day for a wedding. I also intended to sprinkle more lime zest on top in lieu of sprinkles, but sometimes I'm a little too ambitious for my own good.
Key Lime Cupcakes:
Makes 1 dozen
---