Hey! It's National Doughnut Day!
(Read article summary)
Dunkin Donuts and Krispy Kreme are celebrating by holding their annual smackdown.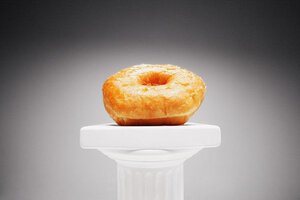 Kelly Redinger / Design Pics/Newscom
Since 1938, every first Friday in June is National Doughnut Day. Created by the Salvation Army to honor the women who served doughnuts to soldiers during World War I, the day is an opportunity to enjoy our favorite deep-fried delicious treats.
Employing the lightening fast speeds of Twitter and Facebook as their cyber lightsabers, Dunkin Donuts and Krispy Kreme are battling for doughnut dominance by enticing us to come in and enjoy a free doughnut on June 3, 2011.
Aw gee, really? OK, if we must.
DD vs. KK smackdown
Dunkin Donuts is offering a free doughnut with a purchase of a beverage.
Krispy Kreme has upped that with a free doughnut no purchase necessary but only at participating stores.
---