Grilled honey garlic baby lamb chops
(Read article summary)
Honey caramelized on the grill sweetens meat in a delicious way.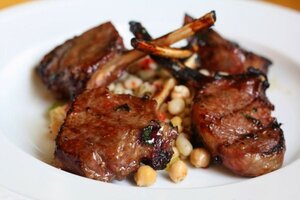 The Gourmand Mom
It's grilling season. Even my 4-year-old seems to sense it. He awoke on Saturday morning with his mind set on grilling hot dogs. It was undoubtedly a perfect weekend for grilling, but I'm not much of a hot dog eater – unless, of course, it's a Nathan's hot dog and I'm sitting at a Yankees game. I suggested that we grill steaks instead. But his heart was set on hot dogs. I know, Mommy, he said, always ready with a solution. Hot dogs are for the 'mans' and steaks are for the ladies! I like the way this kid thinks! We agreed to grill that evening.
What we would grill quickly changed once I'd arrived at the grocery store. As I stood staring at the wide selection of succulent steaks, I was seduced by a rack of lamb. It whispered to me, just as I was examining the ribeyes. Before I knew it, I was stepping away from the steaks and placing a rack of lamb into my cart. Buh-bye, ribeyes. Hello, lamb.
Lamb chops gave me the perfect opportunity to try out an idea I'd mentally bookmarked. One of our local pizza joints serves the most delicious char-grilled wings. They offer them in a number of tasty varieties, including Buffalo hot, volcanic, mild, barbecue, teriyaki, and rosemary parmesan. But the honey garlic wings are easily my favorite. There's something about the way that honey caramelizes on the grill which makes my mouth water. It's char-grilled magic. I've been itching to throw something on the grill, slathered with a honey garlic sauce. Grilled baby lamb chops were the perfect choice. This preparation would also be delicious on grilled chicken or pork.
Grilled Honey Garlic Baby Lamb Chops
Serves 2
8 baby lamb chops, bones frenched*
4 tablespoons butter
2 teaspoons garlic, minced
1 tablespoon soy sauce
2 tablespoons honey
1 tablespoon fresh parsley, chopped
1/4 teaspoon crushed red pepper
*One side of a rack of lamb is made up of 8 lamb ribs. Simply cut between the bones to get 8 lamb chops.
---