Meatless Monday: Roasted asparagus with mint
(Read article summary)
Roasted asparagus tastes just as good hot as it does at room temperature.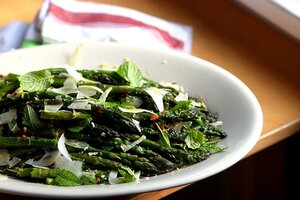 In Praise of Leftovers
I took this to a potluck last week, but can see making a whole meal of it, with a hunk of bread. I remember being intimidated by asparagus in my early cooking years, thinking I needed to spring for a cumbersome asparagus steamer or take some calipers to the store to measure the stalk's diameter. Now, the fad is to grill it. I have good news for you – you don't need to steam it! You don't need to grill it, either! And thick or thin are equally delicious! I've been eating it raw (though you must have very thin spears for this method), but mostly roasting it. If you've got an oven, you're in the Asparagus Club.
And more good news – it doesn't need to be served hot! In fact, I prefer it room temperature, when all the flavor gets a chance to shine. I dressed this just with olive oil (no vinegar or lemon juice) because it was going to sit. If asparagus (like green beans) sits in acid for too long, it will turn brown. If you're serving this straight to the table, you could certainly add something acidic.
Roasted Asparagus with Mint
2 lbs. asparagus
Olive oil
Salt
Fresh mint, to taste
Zest of 1 lemon
Parmesan or pecorino, to taste
Chile flakes, to taste
Preheat oven to 425 degrees F.
---