Simple berry blue cheese watercress salad
(Read article summary)
Blueberries, raspberries, watercress, butter lettuce and blue cheese all shine in this simple salad.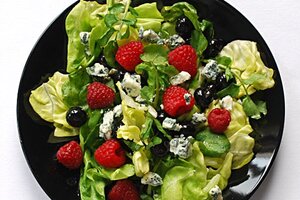 Blue Kitchen
Berries are suddenly abundant in the supermarket – and therefore in our fridge. After not having them for so long, or else having them be too well traveled and hideously expensive to consider, we can't seem to go to the store now without bringing some home.
Looking for ways to use up some of the unexpected bounty, I started thinking of salads. Nothing exuberant and overly busy, just something simple that would let the berries – and everything else – shine. When I first started eating salads – willingly, I mean – I viewed lettuce as nothing more than a vehicle for multiple ladles of gloppy, sweet dressing. Then I dallied with salad bars and their countless edible doodads and distractions for a while.
No more. Now I crave simplicity. Often my salads are nothing more than some mixed greens with just enough simple vinaigrette to gloss the leaves. If there's a pool of dressing in the salad bowl at the end, you've used too much dressing. When I served this kind of salad to a friend once, she called it a honeymoon salad: "Lettuce alone." (Read it out loud to get her joke.)
This salad is a little bit more involved than a honeymoon salad, but not much. And once I'd decided on raspberries and blueberries, the salad more or less immediately assembled itself in my head. For the greens, I chose the crisp, peppery bite of watercress and the wonderfully mild, aptly named butter lettuce. Also called Bibb or Boston Bibb lettuce, it's kind of like the rhythm section of a jazz quartet, quietly counterbalancing the bigger noise of the other ingredients and holding everything together beautifully. Every time I use butter lettuce in a salad – not nearly often enough – I wonder why I don't use it more.
Even though this salad started with fresh berries, it needed something to play against the sweet, tart, green flavors. Earthy, salty, sharp blue cheese was the obvious choice for me. Feta, Gorgonzola, goat cheese or even a generous handful of freshly grated Parmesan would also do the trick.
Simple Berry Blue Cheese Watercress Salad
Serves 2 (can be doubled)
For the salad:
3 cups butter lettuce, torn and loosely packed
2 cups watercress, thick stems removed, loosely packed
1/2 cup blueberries
3/4 cup raspberries
1/3 cup crumbled blue cheese
---