Three ways to grill steaks
(Read article summary)
Loin flap steaks, flat steaks, and top sirloin are less expensive cuts that deliver delicious flavors.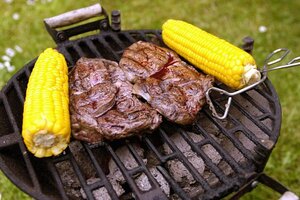 Hans Gunther Oed/Action Press/Newscom
For summer grilling many of us naturally reach for the pricey steaks – strips, rib-eyes, filet mignons – but they aren't the only cuts in the case. In this week's USA Weekend video we introduce you to our favorite less expensive steaks.
Beef loin flap steaks resemble boneless ribs. They're full of flavor and take well to spice rubs. Thin steaks like flank, skirt, and flatiron are perfect candidates for marinades. Thicker top sirloin is wonderfully beefy. Just grill it as you would one of the pricier steaks and smear it with the horseradish parsley butter. Using moist peppery parsley and horseradish means you need very little butter to bind it.
Fire up your grill this July 4th! And enjoy a steak…and the long weekend!
Spice-Rubbed Grilled Beef Loin Flap Steaks
Serves 6
2 teaspoons each: kosher salt, coarsely ground black pepper, garlic powder, paprika and ground cumin and coriander
2 pounds beef loin flap steaks
1 tablespoon olive oil
Mix salt, pepper, garlic powder, cumin, coriander, and paprika. Rub steak with oil and pat on spice mixture; let stand while grill is heating or up to 2 hours. (Can be refrigerated overnight; return to room temperature.)
Heat gas grill igniting all burners on high for at least 10 minutes or build a hot charcoal fire. Clean grate with a wire brush and then lubricate with an oil-soaked rag. Add steaks, close lid, and grill, turning only once, to desired doneness, about 3 minutes per side for medium-rare and 3 ½ minutes per side for medium. Let rest for 5 minutes and serve, making sure everyone knows to slice the steak against the grain.
Grilled Marinated Flat Steak
Serves 6
---