Strawberry hazelnut salad with sesame dressing
(Read article summary)
A summer salad with delicious in-season strawberries.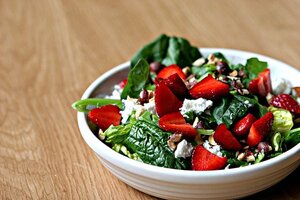 In Praise of Leftovers
Oh, how I love strawberries. I've got my kids trained, too. Driving through town this week, Wyatt said, "Mom! Pull over! There's a strawberry stand!" We've just been eating them fresh – out of hand, over yogurt, in smoothies. They are so yielding and RED. The very definition of red.
I had lunch alone today. Yancey and the kids were running errands, which seems like all we do lately. Run errands, unpack, take yet more $%# to Goodwill, and sign paperwork. We are awash in paperwork over here. Turns out, if you sell and buy a house in the same month, the entire universe requires your signature. So we have disclosed and been disclosed to, locked in interest rates, and become best friends with our insurance brokers. I'm not complaining – all of this is a giant gift. But I'm ready for things to slow down.
And lunch alone at home is my favorite, as you probably know by now. I like it better than making mac and cheese for kids (surprise) and even like it better than going out. I've never lived alone (What?! Yes, it's true) so I have to fake it every once in awhile and please just myself.
Strawberry Hazelnut Salad with Sesame Dressing
Serves 1
I made the salad with a bounty from Joe's Garden – pointy spinach leaves, big leaves of Italian parsley, sweet shelling peas, toasted hazelnuts, sheep's milk feta, sliced strawberries.
For the dressing
1 tablespoon of honey
Kosher salt
Pepper
Green onion, thinly sliced
Sprinkle of sesame seeds
1/2 tablespoon of red wine vinegar
1 tablespoon sesame oil
1 tablespoon olive oil
---