Meatless Monday: Zucchini tomato goulash
(Read article summary)
This hearty goulash creates a lively side dish or vegetarian meal.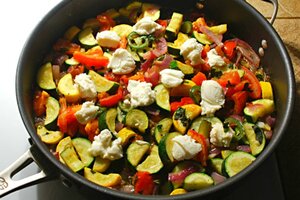 Blue Kitchen
You know how when you're traveling and one of the locals asks where you're from, then says wistfully, "Wow, I've always wanted to go there"? I didn't get that once in Los Cabos. Not once. And I live in Chicago, a place I consider capable of generating a certain amount of destination envy.
I was in Los Cabos a few weeks ago, at the southernmost tip of Mexico's Baja California Peninsula, on a culinary press trip to explore the foodie side of this popular tourist destination.
My fellow travelers and I were guests of the Los Cabos Convention & Visitors Bureau. And while we were asked many times where we had come from to get there (besides Chicago, the answers included New York City, Los Angeles and Western Canada), our replies inspired little more than polite curiosity. No one seemed eager to leave this sunny, narrow strip of land with the Pacific on one side and the Sea of Cortés on the other.
Whether they'd been born in Los Cabos or had moved from Mexico's mainland or other, more far-flung points around the globe, the waiters, hotel managers, drivers, restaurateurs, chefs, fishing boat captains and shop owners we spoke with all seemed to be precisely where they wanted to be. In the four days I spent there, I could see why.
---