Pizza on the grill, Greek-style
(Read article summary)
You don't need an outdoor pizza oven to enjoy cooking pizza outdoors.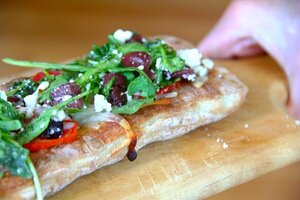 Three Many Cooks
Light, fresh pizzas are perfect summer food, but who wants to heat up the kitchen oven to 500 degrees F.? Grilling pizzas makes so much sense. And this grill method that Maggy and I demonstrate in this week's USA Weekend video is the best, quickest way to get that crisp crust we all love.
Grilled Fresh Tomato and Greek Salad Pizza
Serves 4
If making pizza dough from scratch, make it a couple of hours ahead and let it rise.
4 large Italian plum tomatoes, sliced thin (juice from sliced tomatoes reserved)
2 tablespoons olive oil, divided
3 garlic cloves, minced
1 pound store bought or 1/2 recipe homemade pizza dough
Salt and ground black pepper
3 ounces (about 3/4 cup) grated mozzarella cheese)
4 cups packed arugula or baby spinach
1/4 cup coarsely chopped kalamata olives
2 ounces crumbled feta (about 1/2 cup)
Turn all burners of a gas grill on high or build a charcoal fire. Meanwhile, lay sliced tomatoes on a baking sheet. Mix 1 tablespoon of the oil with the minced garlic. Drizzle oil over tomatoes; set aside.
Without punching or kneading dough (which makes stretching more difficult), turn dough onto a lightly floured surface. Using a dough scraper or sharp knife, quarter dough crosswise. Working one at a time, stretch each portion into a rustic 12- by 3 1/2- to 4-inch rectangle; transfer to a large cornmeal-coated baking sheet.
---