Fresh corn buttermilk biscuits
(Read article summary)
Biscuits bursting with corn flavor that would surely win the approval of Ma Ingalls.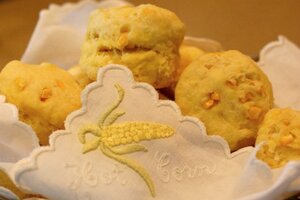 The Runaway Spoon
I like books about people who do things. This summer I have been reading the Little House on the Prairie series, and boy do they do things. Make their own clothes, their own food – even build their own houses. I have a list of books I have enjoyed that detail the work of women in the kitchen, baking bread, tending gardens, canning produce, collecting their own honey.
Now let me be clear, for the most part, I don't want to do these things. I can't sew or build or grow. I have a new found canning obsession, but it's for fun, not survival. I just like the idea of doing all these things. I like the imagery of our foremothers carefully tending their corn crop, gratefully harvesting its bounty, shucking all those silky ears and turning them into delicious meals. These are the women who can crank out biscuits and breads in mass quantities, by touch and feel and eye. Again, I am not one of these women, but this recipe harks to that literary longing in me. The combination of freshly shucked corn and old-fashioned buttermilk biscuits.
These biscuits have the loveliest buttery yellow color, with the gorgeous flecks of fresh corn shining through. Serve these warm with some fresh, rich butter with a summer dinner and your friends will swoon. The breakfast possibilities are endless. Serve one with a slice of fresh tomato for a burst of summer flavor. And a buttered biscuit with a slice of bacon is a real treat. I think Ma Ingalls would approve.
Fresh Corn Buttermilk Biscuits
Makes 12 – 14 biscuits
These biscuits are best served warm to bring out the fresh corn flavor. If you don't eat them right out of the oven, wrap lightly in foil and heat for a few minutes in a low oven.
---