Ratatouille: three simple summer recipes
(Read article summary)
Oven-roasted ratatouille creates a savory vegetables base that can enhance other dishes.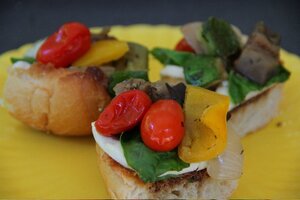 Three Many Cooks
I'm starting to get summer vegetable overload. The French solved this problem long ago and developed a dish we all love – ratatouille! Traditionally it's stewed stovetop resulting in an utterly irresistible but slightly unattractive dish. We three cooks have found that roasting the vegetables rather than stewing them means they cook through yet sill hold their shape.
We love ratatouille on its own, but we also like that once you've made a batch, you can use it as a base to create very different dishes throughout the week. And because the ratatouille is already made, they're super quick. How about Open-Face Ratatouille and Mozzarella Sandwiches, Summer Chicken Stew with Ratatouille Vegetables, or my favorite: Grilled Provencal Lamb Chops with Ratatouille Relish?
If you're looking for other ways to use summer's abundance, give Sharon's Zucchini and and Summer Squash Ribbons try. And this ratatouille is just one more way to keep your vegetable consumption interesting this summer.
Roasted Ratatouille
Makes about 5 cups
1 medium eggplant, trimmed and cut and cut into one-inch dice
1 large sweet onion, peeled and cut into one-inch dice
1 yellow bell pepper, stemmed, seeded, and cut into one-inch dice
2 medium zucchini, trimmed and cut into one-inch dice
12 peeled garlic cloves, halved
1/4 cup olive oil
2 teaspoons dried thyme leaves
Salt and ground black pepper
2 cups (1 pint) cherry tomatoes
Combine eggplant, onion, pepper, zucchini, and garlic in a large bowl. Add olive oil, thyme, and a sprinkling of salt and pepper; toss to coat. Turn vegetables onto a large-rimmed baking sheet.
Adjust oven rack to lowest position and heat oven to 425 degrees F. Set baking sheet in preheating oven; roast until vegetables are golden brown on bottom, about 20 minutes. Remove pan from oven, stir in cherry tomatoes, and then continue to roast, stirring once more, until tomatoes have start to release their juices, about 15 minutes longer. Serve hot, warm, or at room temperature, or continue with one of the following recipes. (Can be covered and refrigerated up to 5 days.)
Open-Faced Roasted Ratatouille and Mozzarella Sandwich
Serves 2
For those with heartier appetites, cap sandwiches with bun tops.
1 cup Roasted Ratatouille (see above), warm or at room temperature
2 hero rolls (about 6-inches long), tops reserved for another use
2 teaspoons olive oil
1 teaspoon balsamic vinegar
4 ounces mozzarella (fresh, if possible) sliced thin
Fresh basil leaves
If Roasted Ratatouille is not yet made, do it now.
Toast rolls until golden brown. Drizzle each with a portion of olive oil and vinegar; top with a portion of cheese, enough basil leave to cover cheese, and the ratatouille. Serve.
---