Easy chilled peach soup
(Read article summary)
Try serving chilled peach soup as a first course for brunch with small side salad.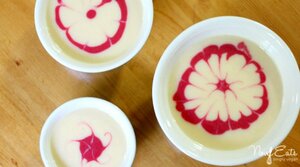 Novel Eats
Soup and summers don't generally mix, but this delicious chilled peach soup does the trick. It uses what is in season, plus a few other ingredients that are always available at your grocery store, and it's easy to make. My suggestion would be to serve this at brunch, or as a first course with a small side salad drizzled with a raspberry vinaigrette. And of course, it's perfect as a refreshing dessert after a heavy or spicy meal.
Chilled Peach Soup
Based upon the Pretty Peach Soup recipe found at Allrecipes.com
Serves 4 to 6
1 cup fresh or frozen raspberries, thawed
1-2 tablespoons water
3 cups fresh or frozen peaches, thawed
3 tablespoons lemon juice, or the juice of 2 small lemons
1-2 tablespoons water
1 cup peach nectar (you may substitute another nectar or fruit juice if peach nectar is unavailable)
1 cup plain vegan yogurt
1/4 cup vegan sugar
1 teaspoon almond or vanilla extract
Raspberry purée
First things first – the raspberry puree is not required for this recipe, but if you want to make pretty designs on top of your soup, then you'll need it. It's easy to make, so don't worry too much.
Place raspberries in a blender; cover and process until smooth. If you are using frozen raspberries that have not been thawed, you may find that it will be easier to blend them with one or two tablespoons of water (or even three).
Strain and discard seeds. It will be easier to strain if you use a spoon or spatula to scrape the bottom of the sieve. Once it is strained, cover and refrigerate the purée.
Just a friendly reminder… It's a really good idea to use organic peaches when you can because peaches are one of the Dirty Dozen, a list of produce (compiled by the Environmental Working Group) that shows what items have been overloaded with pesticides.
---