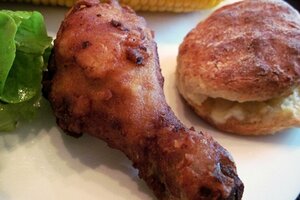 nestMeg
It all started when my cousin here in Germany made a fairly innocuous request: to cook a meal that represents North Carolina.
I'm just a wannabe Southerner. I also have never attempted to make barbecue in either the eastern (vinegar-based) or western (tomato-based) North Carolinian fashion, which is the first meal option that sprung to mind. In the interest of leaving North Carolina barbecue to the professionals and maintaining my own sanity, I decided to broaden the scope of her request with a "Southern" meal. I also wanted to avoid the inevitable arguments that arise when you get too specific in identifying the origins of different foods. "Southern" seems like a safer distinction than "North Carolinian."
When I found myself standing in a kitchen on Duke's campus a few months ago, watching my food writing professor navigating her tongs over spattering oil and flour-drenched drumsticks, I established a genuine appreciation for an art form I originally associated with heat lamps and mushy biscuits. (Thanks, Bojangle's.) Cooking fried chicken isn't difficult, but there's definitely a method to it.
For most of my childhood, I firmly believed that the crispy exterior of fried chicken was caused by something akin to corn flakes constituting the breading. We can attribute that belief to my mom's attempts to make healthier fried chicken, which did, in fact, involve corn flakes and eschewed the stove in favor of the oven. The only fried food our kitchen ever saw was funnel cake. Once. We left it to the NC State Fair professionals after that.
---