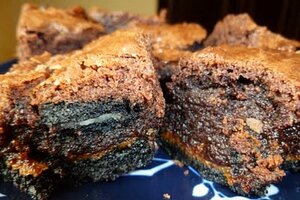 The Pastry Chef's Baking
The original name of these brownies is Bethlehem Brownies since they're in a Christmas cookie book but I've decided not only to take liberties with the name but with the brownies themselves. I'm still on a bit of an Oreo cookie kick and have been noodling on how to make brownies even more decadent. For this one, I not only did an Oreo cookie crust again but I also added a thin layer of caramel between the Oreo cookie crust and the brownie. Not to mention adding chunks of Oreo cookies to the brownie itself. Can't have too much of a good thing. And if you really want to get super freaky with the cookies 'n' cream theme, serve these with a scoop of Cookies 'n Cream ice cream, with rivulets of hot fudge and chunks of Oreo cookies on top. Oh yeah.

The original recipe is as is below. My modifications: I made a half recipe of just the brownies without the recipe topping and baked them in a 9 x 9-inch pan. For the Oreo cookie crust, I used 1/2 to 2/3 of a 16.6-ounce package of Oreos (er, more or less, not counting the ones I ate while I was putting these together), pulverized them to crumbs in my food processor, added 4 tablespoons of melted butter and 1 teaspoon of vanilla and patted into a firm, even layer in a foil-lined 9-inch square pan. I spread a thin layer of caramel (amount is up to you: melt caramels with a bit of milk until of a spreadable consistency) over the cookie crust, chopped up chunks of more Oreos to add to the brownie batter then spread the batter brownie in the pan, covering the caramel layer completely.

Because the brownies were relatively thick, I baked these for around 40-45 minutes in my oven. The edges came out with moist crumbs and the middle was still a little liquid which normally meant I should leave them in longer but I took them out anyway, trusting that they would firm up when cool. Uh, I was wrong. They turned out to be a little too underbaked, even for me, so I put them back into the oven in the hopes of salvaging them. I was only marginally successful. I underestimated how moist the caramel would make the brownies and how much longer I should've baked brownies of this thickness. And the second baking made the top crust more pronounced. Some people like a top crust on their brownies but I don't. These were good but could've been better if I had baked them long enough the first time. That's a lesson learned for next time. Always trust the toothpick test.

---