Sweet garlic refrigerator pickles
(Read article summary)
A sweet pickle that will win over even those who say they don't like pickles.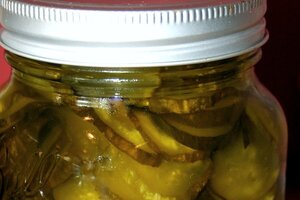 The Runaway Spoon
My father calls my house a kitchen with a bedroom. He's basically right. I spent over six months renovating to have the big kitchen of my dreams. I even planted a small garden, though I have a black thumb and a streak of laziness.
I recall that first summer in my new kitchen as my "prairie house wife days." Oddly, I had this idea in my head that I was someone who "put things by." Making jams and pickles and preserves and having a whole shelf in my new pantry full of glowing little jars of homemade treats, whipping out fresh dill pickles (cucumbers, I had hoped, from my own garden) for hamburger diners, spreading biscuits with my own preserves. I attempted to grow the ingredients myself (a failure except for herbs, at which I am kind of a whiz). I made regular visits to the farmer's market and some roadside stands. I read every classic community cookbook from my grandmother's collection, many from the 1930s and 1940s. I studied the Ball Guide to Canning and Preserving. I looked up guidelines from the agricultural extension service online. I bought cases of jars, a jar lifter, funnel, a big canning pot and went to work.
Pickles. I somehow arrived at the conclusion that pickles are the ultimate canning project. So I purchased just the right cucumbers. I faithfully followed the recipes and rules from the Ball Guide, step-by-step, ingredient-by ingredient. I sliced, I boiled, I mixed, I canned, I sealed, I hot water-bathed. Finally, a cool shelf in my pantry was stocked with Mason jars full of bright green, gleaming testaments to my hard work, just waiting for their unveiling at the appointed time. Everyday, I admired my handiwork, so pleased with my industriousness. And then the time came. According to my guide book, the pickles were sufficiently pickled for eating. I proudly presented a jar to my father, a noted pickle-lover, waiting for his verdict.
---