Chocolate caramel brownies
(Read article summary)
A prized recipe, reluctantly shared because it is just that good!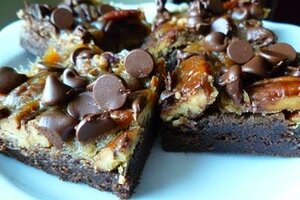 The Pastry Chef's Baking
Once upon a time, this was my most prized brownie recipe. I discovered it early in college and it was always an instant hit whenever I made it. When people asked me for the recipe, I regretfully couldn't (or let's face it, I wouldn't) share it because I felt it was "my" recipe and I didn't want just anyone to be able to duplicate it. I referred to it a couple of years ago in my lemon bar post and the bad experience I had with someone who I did share it with. Only my nieces were the exception and I even published as part of a tastebook to give to them.

Since then and since embarking on my blog, I've gotten a lot less territorial about recipes. And I'm finally ready to share this one, partly because it's my pay-it-forward for all the great recipes people have shared with me and partly because, oh yeah, I'm over being selfish, narcissist and what-all with it. I made this brownie yesterday at the request of one of my nieces as this is her favorite. Can't say no, now can I?
Some tips to make this recipe a success and I've learned this through many years of trial and error with this recipe.
1. Toast the pecans to bring out their flavor.
2. The caramel is the trickiest part of the brownie. When done correctly, the end result will be an almost chewy toffee-like topping with a slight crunch brought out by the caramelized pecans. When done incorrectly, it's grainy and greasy. When you're melting the butter and brown sugar together, whisk it constantly to keep it emulsified and melt it over medium to low heat. If the butter gets too hot, it'll be harder to emulsify with the brown sugar. I never use a candy thermometer but you know when it's done when it's golden brown and a thick liquid. If it's too brown or too thin, it got overheated and isn't whisked together enough. Don't start making the caramel until the brownies have been baking for at least 10-12 minutes. You want to time it so that the caramel is ready to pour over the brownies right when the brownies are ready to come out of the oven for the first baking.
---