Watermelon tuna ceviche
(Read article summary)
Citrus juice quickly "cooks" sushi-grade tuna for this light, fresh, colorful first course.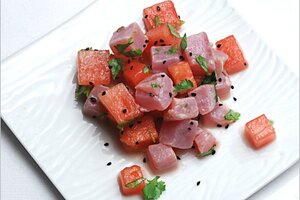 Blue Kitchen
As American psychology professor Abraham Maslow once said, when all you have is a hammer, everything looks like a nail. Los Cabos, at the southernmost tip of Mexico's Baja California Peninsula, is surrounded on three sides by water. To the lucky inhabitants there, everything looks like a seafood buffet.
I saw this firsthand on a recent culinary press trip to Los Cabos (yes, I'm on about that again). Did you know that there are flights at 5:30 in the morning? Me neither. But being on one meant I grabbed an airport breakfast sandwich and cursed when a mad dash for my connecting flight in Atlanta precluded getting something more. So late afternoon found me at my hotel, the Grand Solmar Land's End Resort & Spa, desperate for a light meal to tide me over until the group dinner. I found it at the hotel's oceanside restaurant, La Roca. It was called, quite simply, Seafood from the Pacific.
And it was perfect. Shrimp, octopus, lobster and bay scallops, all impossibly fresh, poached and served cold with celery, avocado, cucumber, red onion and a citrus vinaigrette. I ate it on the restaurant veranda, with maybe 50 yards of beach between me and the crashing waves of the Pacific Ocean, smelling the salt air and understanding a whole new kind of farm to table.
The next day, I got an even closer understanding, as my fellow travelers and I walked along the marina in Cabo San Lucas at 6:30 in the morning, on our way to a fishing boat that would take us out onto the Sea of Cortés, around the tip of the Baja Peninsula and out onto the Pacific Ocean.
---