Meatless Monday: Spaghetti with grilled zucchini sauce
(Read article summary)
Stem the rising tide of zucchini with this delicious grilled sauce.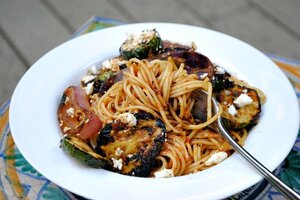 Three Many Cooks
This time of year I'm reminded of Garrison Keillor's Lake Wobegone tale. There's so much late-summer zucchini in this small town that, under cover of night, people are surreptitiously leaving big paper bags of it on people's porches. You walk out to get the paper in the morning – and you've been zucchini-ed.
Sometimes I get the feeling this must be happening to me; there's just too much of the stuff lying around. A couple of weeks ago someone wrote on our Facebook wall, "Got any ideas of what to do with zucchini besides zucchini bread?" I get it. You've got this wonderfully healthy vegetable and all you can think to do is to turn it into cake.
This time of year grilled pasta sauce is a favorite of mine. While the pasta water heats, grill tomato halves, a head of garlic, and sliced zucchini and red onion. After slipping the garlic from the cloves, transfer them, along with the grilled tomatoes to a food processor and whir for an instant cooked sauce. Toss some of the sauce with the grilled zucchini and onion, the remaining sauce with the pasta. Although you could sprinkle with the usual Parmesan, I prefer topping this robust pasta with more assertive crumbled feta.
Between the farmer's markets, our gardens, grocery store sales, and what our gardening friends pass on, it's easy to end up with zucchini by the bushel. There's always zucchini bread, but now you've got a main-course vegetarian pasta to add to your repertoire. With dishes like these, you might want to leave a sign at the front door, "Accepting all stray zucchini."
Spaghetti with Grilled Zucchini Sauce
Serves 4
---
Follow Stories Like This
Get the Monitor stories you care about delivered to your inbox.