Peru celebrates its cuisine
(Read article summary)
Peruvian cooking boasts a unique fusion of Spanish, Chinese, Japanese, Italian, African, Andean, and native American influences.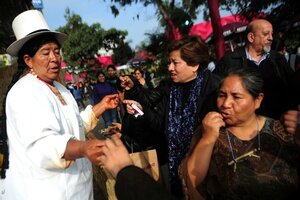 ERNESTO BENAVIDES/AFP/Getty Images/Newscom
When the chairman of Peru's Gastronomy Society set out to research the roots and multifarious preparations for raw fish marinated in lemon juice, spices and julienned onions, his goal was twofold: first to explain the unique context from which Peru's famous seafood dish, cebiche, was born and second, to internationalize it.
"We're building a global brand for Peruvian cuisine," said Mariano Valderrama, author of "The Roots and Flavors of the Cebiche," in an interview at his home in Lima. "Gastronomy will serve as the locomotive to push Peru's trains of agriculture and tourism."
Mr. Valderrama and other local culinary enthusiasts, such as renowned Peruvian chef Gaston Acurio, are at the forefront of an effort to unite the main actors in Peru's restaurant and gastronomical sectors. Already, their efforts have paid off.
---