Prosciutto and apple pizza
(Read article summary)
Apples, prosciutto, and cheese on a pizza. What could be better than that?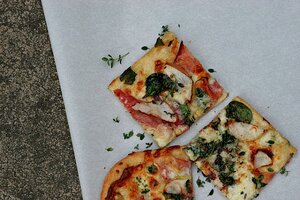 In Praise of Leftovers
Last weekend, Bethany and I took the kids on the Whatcom Farm Tour. One of our stops was Cloud Mountain Farm, where I bought several bags of early apples. I can't think of anything more satisfying than biting into the first apples of the season. I love summer berries, melons, and stone fruits. But crisp fall apples with the leaves still on? I get giddy with all the possibilities. I made applesauce with Loretta's preschool class, open-faced sandwiches with apples, fig jam, and sharp cheddar, and have been stashing them in my purse. There's only one left in the produce drawer, so tomorrow is being planned around finding more.
But this pizza was the star. It's predictable by now that I say, "Yancey, this is the best pizza we've ever made." But I am serious this time. I am loathe to count all the squares I ate. At least six.
I continue to depend on this pizza crust, but have been adding more olive oil to the pan and on the crust before topping it. I'll try not to gloat too much, but my future oven will be able to fit a commercial full-sized baking sheet. The pizza mania will be unstoppable.
Best Pizza Dough
3-3/4 cups bread flour (or all-purpose)
2-1/2 tablespoons fast-acting yeast (2 packets)
3/4 teaspoon salt
1 teaspoon sugar
1-1/3 cup water, room temperature (about 72 degrees F.)
Olive oil for the pans and stretched dough
Preheat oven to 500 degrees F.
---