Braised beef short ribs with figs
(Read article summary)
Preparing braised short ribs is almost as easy as cooking up a box of macaroni and cheese.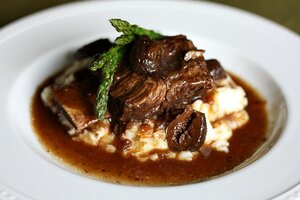 The Gourmand Mom
You know that show, "Masterchef"? The one where Gordon Ramsay and two other dudes put a group of amateur cooks through their paces, looking for America's best home cook?? Enthusiastic friends of mine have mentioned that I should try out for that show. Never gonna happen. Competition and I don't get along so well and I'm a big awkward goof in front of the camera. Seriously, it would make you cringe. Besides, they probably wouldn't even let me on the show now that I've just called Joe Bastianich and Graham Elliot those "two other dudes." Just kidding guys! You know you're my favorite, Joe!
Anyway, I'm an amateur home cook, much like the contestants on that show. I share their passion for food, I've got a few culinary skills up my sleeve and I can come up with a tasty recipe or two on the fly. I enjoy watching what the contestants come up with and am constantly impressed by how quickly and creatively they can think on their feet. Not sure I could hack it.
But I've been thinking that there's something missing from the show; something which many home cooks contend with on a day to day basis; something much more challenging than executing expert knife skills or producing the perfect soufflé….
I'm talking about children. Cooking in the presence of children changes the game. I'd be interested in seeing these accomplished home cooks produce such artfully plated, mouth-watering meals while simultaneously bouncing a crying baby on their hip and preventing the older kids from razing the house. Now that would be impressive!
Because, for many of us, that is the reality of being a home cook. We may not have Gordon Ramsay standing over our shoulder making us question our choice of figs with the short ribs or telling us that our sauce is under-seasoned. And most of us are not racing against a big timer mounted on the wall. But we are constantly racing against the clock of a different kind. Children can turn every night into a high-pressure culinary challenge. It's a challenge hard to replicate in a cooking competition. Perhaps we can ask the contestants to prepare their perfect souffle with wiggling 35-pound weights on both legs, a shrieking bowling ball in one arm, and a tower of antique teacups balanced on their heads?
Props to all home cooks who put meals on the table for your family, night after night … regardless of whether it's boxed macaroni and cheese with cut up hot dogs and peas or braised short ribs with creamy brie potatoes and roasted asparagus! It's a challenge regardless. I know all about it!
But what if I told you that you preparing the braised short ribs would be almost as easy as the box of macaroni and cheese with hot dogs?? Seriously! This dish is really a cinch to put together and so, so satisfying. Adults and kids alike will love these creamy potatoes and fall-off-the-bone tender beef in a slightly sweet sauce.
This is a two-day recipe. You can make perfectly delicious short ribs in less than two days, but there are a few benefits to the two-day process. First, it will enable you to get the bulk of the cooking (and clean-up) completed the day before, making it easy to reheat the next night. Second, it gives the sauce a chance to cool, which will allow the excess fat (which is rendered from the short ribs during cooking) to rise to the top and become solid. This makes it super easy to remove the excess fat from the sauce. The night you plan to serve, you'll simply scoop off the fat, reheat at a low simmer, adjust the seasoning of your sauce and serve!
(see next page for recipe)
---