Chicken pecan bites with blue cheese dip
(Read article summary)
These tender little golden bites make a nice change from standard appetizers.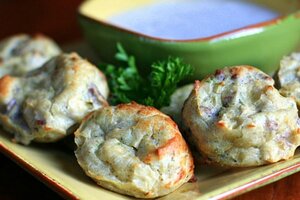 The Runaway Spoon
Every community, particularly in the South, has those handful of classic community cookbooks that everyone seems to own, or haveaccess to, or just know about. They are the reference points for the community table. Compiled by church auxiliaries, symphony leagues, historic societies, these treasure troves bind a community through the most essential love we all share. Food. When you are at a party, or have friends over and someone prepares a great dish, how often is the answer to the recipe request, "oh, it's in…" In Memphis, the end of that sentence is frequently, "Heart and Soul" one of the most popular of the local Junior League's cookbook offerings. There are recipes included in Heart and Soul that people know by heart now, that are as much a part of the Memphis lexicon as an Elvis song. But there a few that get overlooked. This is one of those recipes.
I never really noticed this delicious appetizer recipe in the book, but awhile back, a friend served it at book club. We were all much impressed. She offhandedly remarked, "Oh, it's just from 'Heart and Soul.' " It took me awhile, but I pulled out the book and made the recipe myself, and it is so good, it is worth sharing. These tender little golden bites are so surprising. Rich with chicken and a real depth from the seasonings. These make a nice change from your standard appetizer fare.
I have made a few adjustments to the recipe to streamline the prep, and I serve them now with a blue cheese dip, which complements the chicken and pecans so well. I do recommend celery salt, but if you don't have it on hand, try your favorite seasoned salt or a little plain salt. And these do freeze beautifully, so you can always have some on hand.
Chicken Pecan Bites with Blue Cheese Dip
Adapted from "Heart and Soul: Stirring Recipes from Memphis"
Makes 24 pieces, more if you choose to make them smaller
Makes 1/-14 cup dip
---