Braised/roasted duck legs with vegetables
(Read article summary)
A rustic, one-pan dish with a few elegant ingredients for a simple, delicious fall dinner.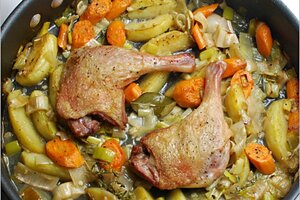 Blue Kitchen
Two things led to this week's recipe. First, fall is officially here. That makes me officially very happy; it's my favorite season of the year for many reasons, none of them having to do with football or season premieres.
One place I enjoy fall the most is in the kitchen. Braising and roasting various meats (usually surrounded with various aromatics, vegetables and herbs) or making stews and soups are some of my favorite ways to cook. And they produce some of my favorite things to eat. Which brings me to the second thing.
One of my absolute favorite things to eat is duck. If we're in a restaurant (particularly if it's French) and duck is on the menu, I know what I'm having. The only thing that has a fighting chance in this situation is lamb, but duck usually wins.
We were in a restaurant Friday night, Wasabi in Chicago's Logan Square neighborhood. Obviously not French, but in addition to the amazing bowls of authentic Japanese ramen made with pork broth cooked for days that had brought us there, they had small plates of grilled duck skewers.
Tasting the delectable bites of duck – salty, crispy and wonderfully juicy – and feeling the chill in the air as we left the restaurant, an idea of something I wanted to make and eat began to form. Duck legs, more interesting and flavorful even than duck breasts, roasted or maybe braised, surrounded with vegetables and seasoned with herbs that took them in a French direction.
---
Follow Stories Like This
Get the Monitor stories you care about delivered to your inbox.