Meatless Monday: Creamy risotto
(Read article summary)
If you don't mind stirring, creamy risotto makes a delicious meal for fall.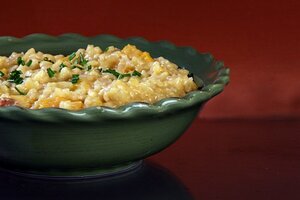 Karen Elshout/MCT/Newscom
The other night my friends came over to eat risotto in heaping bowlfuls. They are all single urbanites, charging in a million different directions. I wan't sure who would show up at the dinner table. In the end, there were five of us – just kind of "coming home" together after a week of hectic schedules, new jobs, and surviving the ordinary.
I had never made risotto before. I've heard how easy it is, except for the part where you have to stand over the stove stirring for awhile. Fortunately for me, my apartment is so small I could stir at the stove and still be a part of the conversation that was happening in the living room three steps away.
The risotto was inspired because I had gotten an e-mail from a Grana Padano rep in New York asking if I wanted to try Grana Padano. "Sure," I replied back, "why don't you send me a sample?"
A few days later I got a cardboard box with a hunk of cheese wrapped in plastic wrap and plain white butcher paper (no worries, we're all fine).
What is Grana Padano? It's a mild form of Parmesan cheese, and in some cases less expensive. But it still has a delicious flavor and I've been adding it to my pastas and salads all week. Note: If you have a green cylinder of grated Parmesan cheese in your 'fridge, do yourself a favor and throw it away. You are not experiencing real Parmesan flavor. Freshly grated cheese is always best, no exceptions.
---