Meatless Monday: Punjabi eggplant curry
(Read article summary)
A roasted eggplant with a fragrantly spiced sauce.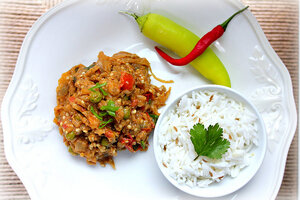 We Are Neve Full
One of the great joys of parenting is being able to do stuff with your kids, you know, like playing with them and watching them laugh. One of the great responsibilities of parenting is doing things with them because you have no choice, as this morning when I reached a stalemate with our 11-month old: either he needed to stop being so clingy for a few moments or I wouldn't be able to get off the toilet. Depending on what kind of parent you are, you'll find that one of these scenarios is more common than the other, and we're totally not judging.
The same might be said of eating homegrown produce: some of it you thoroughly enjoy eating; some of it you eat because you have to. Our first real summer as more or less fully-fledged gardeners has certainly not been characterized by optimal growing conditions but we're still finding that while there are joyous occasions when being creative with our horticultural bounty is a true pleasure, there are plenty of others when facing eggplant for the fourth time in a week becomes a chore.
Like parenting challenges surmounted, finding new and delicious ways to enjoy eggplant – of which, in truth, I've never been the world's biggest fan – provides a great deal of personal satisfaction even if at the time it's frustrating, because in both cases you emerge mostly unscathed but with a new-found appreciation of both the baby and the ingredient.
The recipe below – baigan bhartha – makes use of eggplant's previously unappreciated attribute of being able to bind a sauce. Like its nightshade cousin the tomato, eggplant seems as comfortable in this role as any other we've tried with it. The smoky flavor gained through roasting is quite startling in its profundity – and it would be remiss of us if we were not to warn you that roasting eggplant over direct flame, like some aspects of parenting very young children, can lead to messy explosions. But we learned that the long-cooking and removal of skin diffuses that slightly cough-inducing, throat-irritating quality we've always noticed, replacing it with something approaching a sweetness, believe it or not.
---